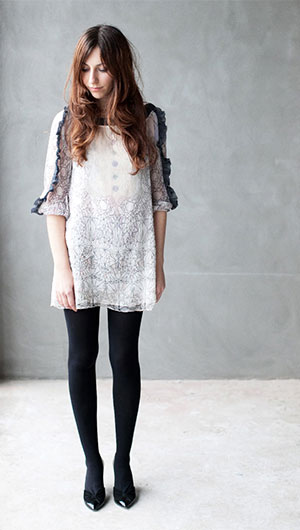 Nadia Barbaro is a Melbourne based fashion stylist, creative director and author.
Nadia's passion for vintage fashion lead her to create the book
Vintage Girls
in 2014. Featuring interviews and imagery from leading creative women like musicians Kimbra and Sarah Blasko, to celebrated
Mad Men
Costume Designer Janie Bryant, ballerina Juliet Burnett, DJ Mia Moretti and filmmaker Liz Goldwyn. Nadia explored how nostalgia and a love of the story behind the clothing was what drew these women to vintage fashion. She revealed how it informed their own personal style and how important it is to celebrate vintage in a time of fast-fashion and mass consumerism. All imagery was created exclusively for this project and featured vintage fashion from the 1930s through to the 1980s. The limited edition signed and numbered book was available at Readings bookstores and gallery bookstores throughout Australia. The eBook for iPads is currently available in the iTunes bookstore as well as on Scribd.
Nadia has always been an advocate for Australian fashion. In 2002 she created a local fashion program for Channel 31 called
Sesame
that ran for two years. In 2004 she created
Sesame
magazine, an independent fashion magazine that sold at fashion boutiques and bookstores throughout Australia. In 2006 she created
Sesame
an online mulit-media magazine that received strong press in U.S Teen Vogue, Nylon, Russh, Style Bubble, Elle Girl Korea, InStyle AU, Frankie and The Design Files.
Nadia was one of the original contributors to Zooey Deschanel's Hellogiggles website.
Nadia has a bachelor of Creative Arts from The University of Melbourne/Victorian College of the Arts and is currently undertaking a Masters in Fashion at RMIT.
Nadia has worked predominately in television and print media. She has styled music videos for artists like Sarah Blasko, Natalie Imbruglia and Tina Arena. She has styled editorials for Frankie and Hooray magazine. She has worked as a buyer for television programs on Network 7 and the ABC and as a wardrobe stylist in television advertising for 12 years.